The M11 PLUS is FiiO's latest update to its M11 Android-based digital audio player. The name 'M11 PLUS' is perhaps a little confusing. Sometimes referred to as the 'M11 PLUS ESS', the PLUS version uses a dual ES9068AS DAC, whereas the original M11, M11 Pro and M11 PLUS LTD editions all used AKG (dual AK4497) DACs. Rumors are that supply shortages of AKM DAC chips (primarily due to the AKM factory fire) are what prompted the switch to ESS. That factory fire seems to have had a silver lining to it, as we'll see later in the measurements. The M11 PLUS also uses dual THX-AA78 amps and upgraded RFI shielding, which had been a weak spot in previous FiiO WiFi-enabled Android DAPs.
The new M11 PLUS also has a different physical design, with the scroll-wheel volume control on the left-hand side now replaced by a combination volume rocker/touch slider which has a sort of virtual feedback/click mechanism that actually works quite well.
The unit comes finished in a premium-looking carbon-fiber exterior, with a nicely etched glass back-panel which seems to evoke the intentionally weirdly-skewed screens on certain Astell & Kern DAPs. Fortunately, it is only the back-panel etching of the M11 PLUS that has this skew to it; the front display is perfectly aligned with the casing.
The M11 PLUS comes with three analog output ports – a standard 3.5 mm single-ended output, a 2.5 mm balanced output and a 4.4 mm (Sony pentaconn) balanced output. The device also offers three gain modes (low, medium and high) and three choices of anti-aliasing filter for its DAC – a sharp roll-off filter, a hybrid fast roll-off filter and a slow delay, slow roll-off filter. Measurements show some notable differences in reproduction accuracy, with the (default) sharp roll-off filter giving the lowest error. This performance of sharp roll-off filters is consistent with the behavior observed in many other DAPs we've tested.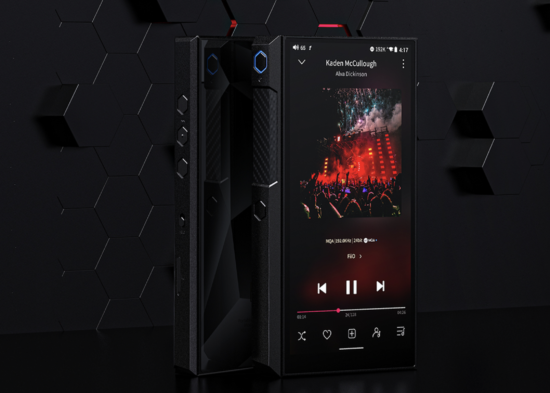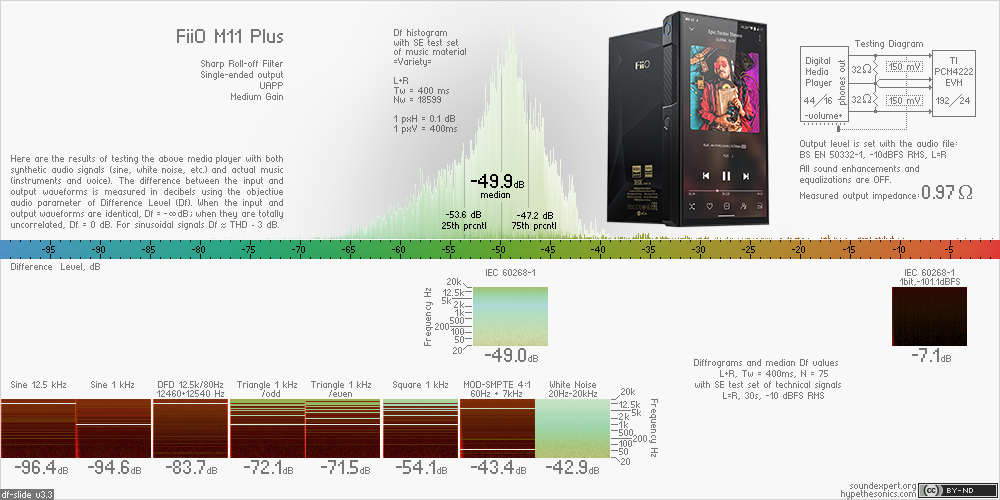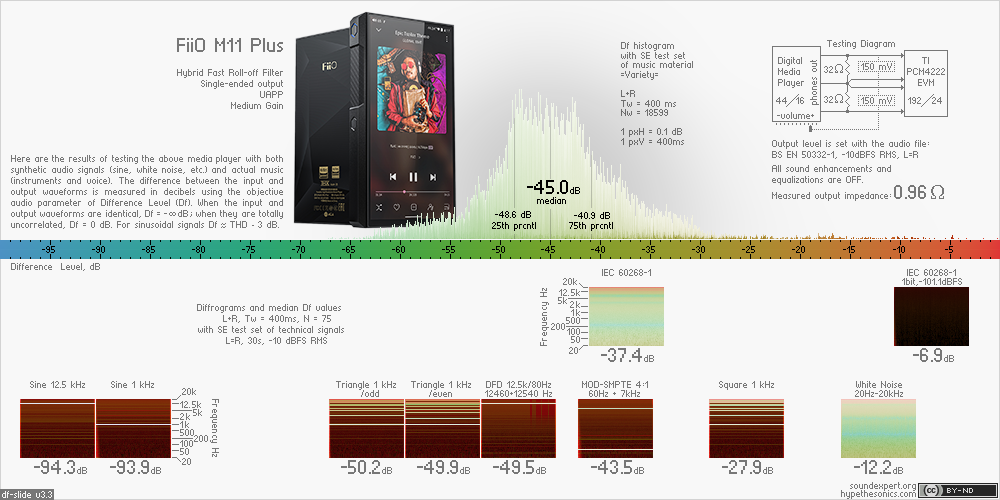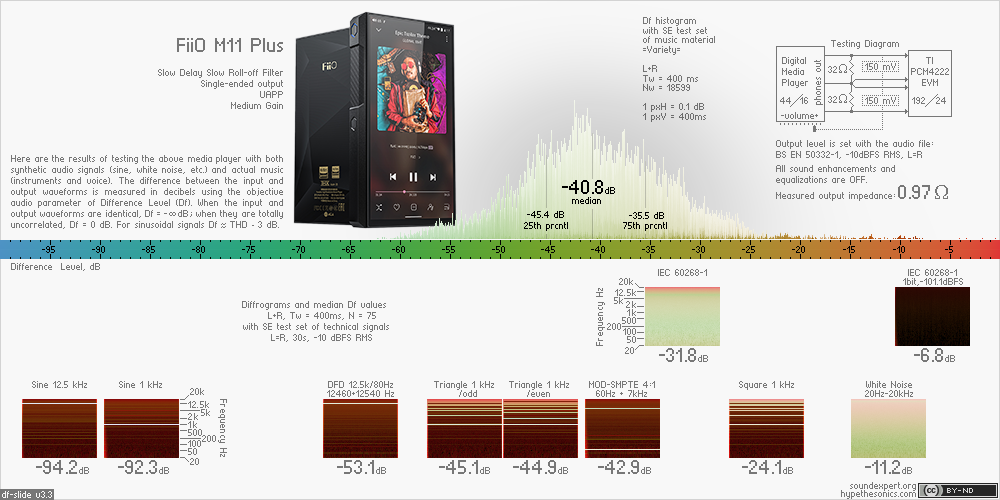 Software
The M11 PLUS unit we tested came running Android 10 out of the box. Although perhaps not quite at the bleeding edge of current smartphone operating systems, Android 10 is actually a fairly recent OS version for a digital audio player (for context – the original M11 shipped with Android 7), where Android's audio issues, bugs and feature deprecation often leaves a fully-working audio player one or two major OS updates behind.
The M11 PLUS supports FiiO Link – FiiO's answer to HiBy Link – which allows control of the DAP via a separate Android app (typically via your smartphone). It supports a wide range of bluetooth audio codecs, but in fairness, so do most modern Android phones, so that's not the primary reason you'd buy a device like the M11 PLUS.  
The key advantage of Android DAPs like the M11 PLUS is their support for third party applications, and happily the M11 PLUS comes with the Google Play store installed. Most of our measurement tests were in fact performed using USB Audio Player Pro (UAPP), which supports the hi-res DAC in the M11 PLUS.  However, we also tested the M11 PLUS using FiiO's own music app. We really like the user interface of FiiO's music player – it's well laid out and easy to navigate. Our experience with the original M11 running one of its earlier firmwares showed some sound-quality problems with the FiiO Music player, where its playback performance showed significantly higher errors than those from UAPP. Happily it seems that whatever bugs were present in earlier M11 firmwares appear to have been fixed now as the sound quality of the output from the FiiO Music App basically mirrors that from UAPP: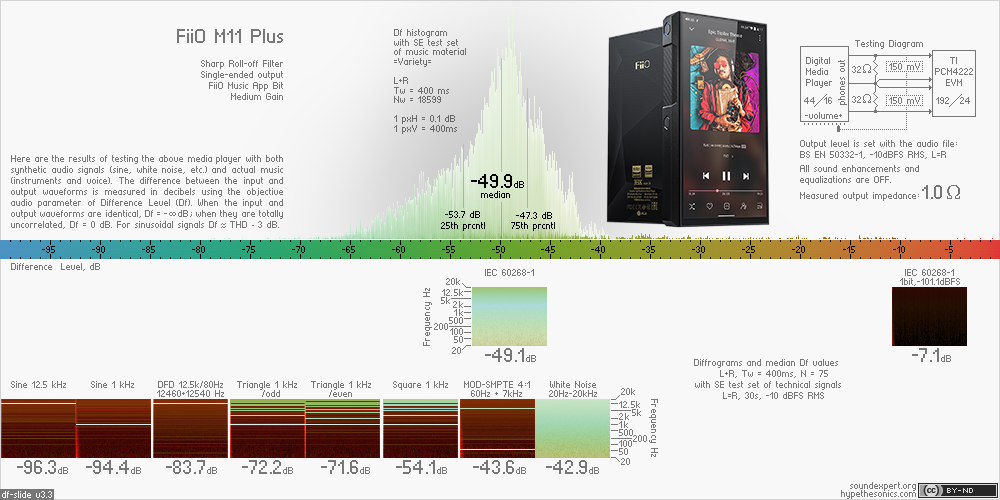 We mentioned earlier about the output ports – one single-ended and two balanced-output sockets. The single-ended output is capable of supplying  210 mW  into 32 Ohms  or 33 mW into 300 Ohms, while either balanced output is capable of suppling 660 mW  into 32 Ohms  or 90 mW into 300 Ohms. The M11 PLUS follows a similar pattern to that of almost every other DAP on the market, with a doubling of output impedance via either of the balanced output ports, relative to that of the single-ended/unbalanced 3.5 mm socket. The single ended output has an approximately 1 Ohm output impedance; either of the balanced sockets give an approximately 2 Ohm output impedance. This is low enough that most people simply needn't be concerned with these numbers. Using the same anti-aliasing filter, the balanced output sound quality is virtually identical to that of the single-ended output. The myth of higher audio quality from balanced outputs will of course persist, but we have never once seen that borne out in a measurement of a DAP. There's simply no need to use the balanced output on the M11 PLUS unless you have a genuine need for the extra power: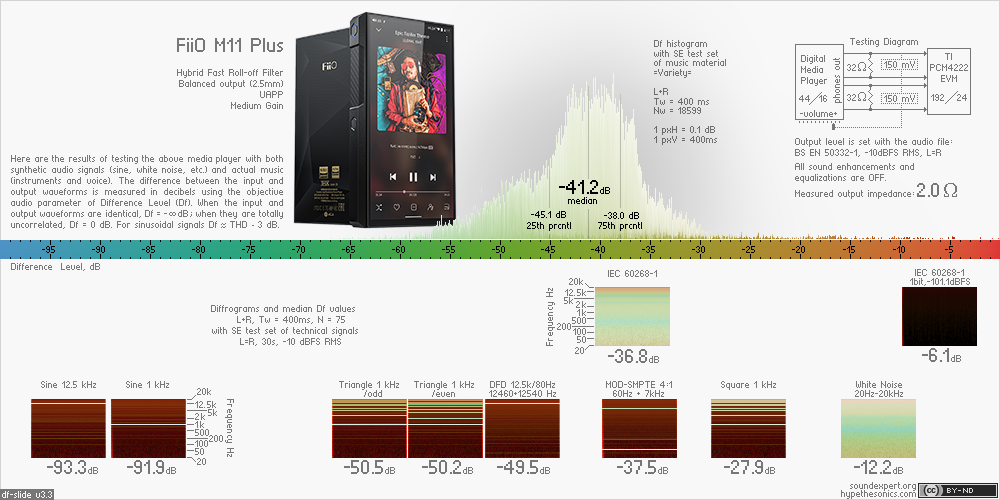 So what are the drawbacks of the M11 PLUS? We're happy to report we haven't found anything significant. Some might argue that other DAPs can provide higher output power, giving more headroom. We find this argument somewhat tenuous, given that, with almost any headphone you could throw at it, the M11 PLUS is already easily capable of causing permanent hearing damage. The M11 PLUS does lack an optical output port, if that's something you might need. However, for most people simply wanting to carry around a portable player with virtually any pair of headphones, the M11 PLUS performs essentially as well as any DAP currently on the market.
FiiO have long been known for producing great value-for-money products, but that has always come with a caveat – 'the best DAP you can buy for the money' implies there's something more expensive that's going to sound better. That was certainly the case with the original version of the M11, which had the misfortune of being (as of April 2022) the worst-measuring device on our database, with a sound quality no better than that of your average smartphone. The M11 PLUS is a significant improvement on the original M11, outperforming flagship DAPs (such as Astell & Kern's SP2000) at a fraction of the price.
There are other ESS-DAC-based devices that measure with even lower errors than that of the M11 PLUS. An obvious example would be the HiBy FC3. However, the HiBy FC3 is not a DAP, but simply a dongle. The ROG Phone 5s, although it gets our vote for the best currently-available DAP, is also not a stand-alone DAP, but a phone. Many people don't want the interruptions that come from listening to music via a smartphone. Of course, that's easily remedied by simply removing the SIM card, but there's another advantage to the M11 PLUS – it also offers bit-perfect playback from hi-res streaming services, such as Qobuz. Bit-perfect support for all audio formats tends to be somewhat lacking in smartphones (even LG and ROG phones with ESS DACs); streaming hi-res via UAPP works, but we know of no current means of playing offline hi-res files from these third-party apps on any existing smartphone. The two other Android-based streaming DAPs that currently score notably better than the M11 PLUS on our main DAP database are the Sony NW-WM1Z and NW-A105. Both of these are good DAPs, but the NW-WM1Z requires proprietary Sony connectors (something we don't think consumers should tolerate) and the NW-A105, while having a nice compact form factor, pays the price for its diminutive size with rather poor batter life.
Summary
FiiO seem to have reached a major milestone with the M11 PLUS. The usual statement about a FiiO DAP being 'the best DAP you can buy for the money' can probably now stand without the 'for the money' addendum. For a general-purpose stand-alone DAP that supports third-party streaming apps, there's very little, at any price, that out-performs the M11 PLUS in any area, including sound quality. With the M11 PLUS, FiiO is eating the lunch of most other audio players, including its own M15.
These measurements made available thanks to Apos Audio.